High Performance


Create Breakthroughs In Performance By Changing The "Conversation"

From Industry Week, June 15 1987 By Perry Pascarella
Werner Erhard has developed an organization to help managers create breakthroughs in performance. Is he establishing just another fad? Or will he help create the magnitude of change that many organizations desperately need? Sample his line of thinking and see what you think.
The net looks only one foot high. The service court seems as large as an airfield – I can't miss it. My racket swings over and "through" the ball to drive a serve that pulls my opponent wide to his forehand side and I strike again in no time to smash his return out the open back corner. A great feeling!
I try to remember the action—reconstruct, analyze, and explain it. But I know that won't ensure I'll repeat it. And then there are times when that opposite court looks tiny, the net looms ten feet high, and the ball is a pea traveling at Mach 1.
The court, the net, and the ball are all real. Yet the way they occur for me changes dramatically from a good day to a bad day. While reality doesn't change, the way it occurs for me does. Could I control that shift in my experience so I could consistently play well? Could I really make that shift happen?
We try to improve our performance by analyzing and evaluating action, producing a prescription for what should be done, and then training ourselves to do a little better. But if we want a dramatic breakthrough in performance, it seems we need a totally different approach.
In his work to develop an approach to performance that will predictably produce breakthroughs, Werner Erhard says, "If you seriously examine any action, you find there are always two sides of it: the side from which you can explain it and the side from which you can produce it. After a recent two-day rise in the stock market, for example, I read an article that masterfully described that rise, analyzed it, and explained it. However, even though I now fully understand what happened, I am not going to bet my life savings on my ability to predict the next one. Read more...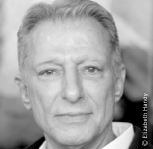 Current Work...
Early Work...
Werner On...
In life you wind up with one of two things - the results or the reason why you don't have the results. Results don't have to be explained. They just are.
Werner Erhard