In The News
FINANCIAL TIMES: April 28, 2012
"Werner Erhard and Michael Jensen look an unlikely pairing but their leadership teaching fits into a broad stream of business education and research about ethics and integrity."- Andrew Hill, Financial Times
"What got the two started on this was not the usual stuff about corporate scandals. It was reflecting on how their own "out-of-integrity behaviour", had stunted their own performance and damaged themselves and others around them. After seven years of research the upshot is a (somewhat impenetrable) model that links integrity, morality, ethics and legality into a single system that promises great benefits for everyone. " - Lucy Kellaway, Financial Times
What People Say


MICHAEL C. JENSEN Jesse Isidor Straus Professor of Business Administration, Emeritus, Harvard University

"Werner and I are writing what I think is a terribly profound piece on integrity.... Integrity is an incredibly important factor of production, at least as important as knowledge and technology. Werner is the most rigorous guy I've ever worked with. We can spend an hour working on a four-or five-sentence paragraph. Werner is absolutely a genius, an amazing man, a remarkable man. That collaboration, along with several other projects of mutual interest, eventually coalesced as the Barbados Group." - Michael C. Jensen PhD.

READ THE FUll ARTICLE "Beyond Coordination and Control Is... Transformation", published by the independent internet weekly economicprincipals.com, by David Warsh, April 8, 2007
PETER BLOCK Author and Consultant

"What's caught me lately is the notion that the future is caused by imagination. An imagination of the life causes a leading of the life, rather than the leading of the life causes my way of thinking. And I just know it's powerful, I never quite know how to get at it. I like the language of possibility. 'Cause it's hard. It's the possibility I'm living into...A lot of this stuff I got from Werner Erhard's stuff with … EST, you probably recognize it... But the idea that if I hold a possibility, or a future, of the way I want the world to be, then I bring that into the room with me every time I show up. I don't have to work on it… it works on me. Now that to me is beautiful."

READ THE KEYNOTE ADDRESS "Servant-Leadership: Creating an Alternative Future", A Keynote Address by Peter Block, 2005 International Servant- Leadership Conference, Indianapolis, Indiana
DAVE LOGAN Associate Dean and Executive Director of Executive Development, and Associate Professor of Clinical, at USC's Marshall

"Werner's thinking – I don't know any nice way of saying it – is just out there in the world. You can't have a Master's Degree in organizational development or human resources without picking up some of it. And it's usually not credited back to him. His stuff is just out there."

From a film interview with Robyn Symon, "Transformation – The Life and Legacy of Werner Erhard", a documentary produced by Symon Productions Inc.,2007
BISHOP OTIS CHARLES Retired Dean of the Episcopal Divinity School in Cambridge, Massachusetts

Bishop Charles also wanted "to make the 'technology of transformation' available to people in the Church … "Bishop Charles, who did est in 1977, considers Werner Erhard and Ignatius of Loyola "the two individuals most influential in shaping my manner of grappling with work and life in the last 15 years," because although "the two are separated by about 400 years, each had a gift of being able to put together a way of creating a space in which your own life and gifts were able to be clearly manifested."

READ THE FULL ARTICLE "Erhard's Life After Est", By Dan Wakefield, Common Boundary, March/April 1994
LYNNE TWIST Global activist, Author of The Soul of Money, Founder and Soul of Money Institute

"There are thousands of consulting firms that come out of Werner's work. There are hundreds of not-for-profits that come out of The Hunger Project alone. And hundreds that come out of the est Training and the Landmark Forum. It's staggering the difference that that man has made in this world."

From a film interview with Robyn Symon, "Transformation – The Life and Legacy of Werner Erhard", a documentary produced by Symon Productions Inc.,2007
Lynne Twist, Soul of Money Institute, acknowledges her work with Werner Erhard – listen to the interview
RONALD HEIFETZ Founder, Center For Public Leadership

During this same early period, we looked at the Erhard Seminar Training. That was an important experience because we saw two hundred people in a room over two weekends go through a powerful curriculum and have a learning experience that seemed to change many of their lives.

From Leadership Can Be Taught: A Bold Approach for a Complex World, by Sharon Daloz Parks, published 2005 by Harvard Business School Press, copyright 2005 Harvard Business School Publishing Corporation, pages 157- 158
BRUCE GREGORY Senior Science Educator, Harvard-Smithsonian Center for Astrophysics

"I was at first surprised and delighted to read of the impact of one of Werner's get togethers of physicists, on Leonard Susskind (founder of String Theory) in his new book, The Black Hole War: My Battle with Stephen Hawking to Make the World Safe for Quantum Mechanics.  Susskind's take on Werner: "I liked Werner. He was smart, interesting, and fun." (Still is!).
ROY SCHEIDER Actor, on the est training, from an interview in 1980

"You come to understand that within each of us is a tremendous beauty, passion, joy, and love for life; you realize that everyone is you… I've never had a better time in my life. I never laughed so much, I never cried so much. I was actually dazzled. I couldn't believe that degree of intimacy could be achieved in a hotel room with 300 people… And I was one of the actors in the show. It was sensational."
Transformation: The Life and Legacy of Werner Erhard
This documentary was created by the independent filmmaker and two-time Emmy Award Winning Producer for PBS, Robyn Simon.  The film is about Werner Erhard, his life and ideas told through the stories of dozens of people including numerous professional and academic experts who discuss the ideas of Werner Erhard and how they continue to dramatically impact society today. 

OTHER LINKS:

"A Remarkable Day" by Steven Farber
The est Training, helping to live a healthy life with Asperger's Syndrome
Maz Iqbal - Possibility, Transformation & Leadership -Thoughts on Werner Erhard's ideas - Part 1
Maz Iqbal - Possibility, Transformation & Leadership - Thoughts on Werner Erhard's ideas - Part 2
Werner Erhard on the Internet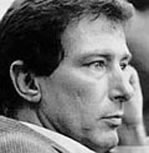 At all times and under all circumstances, we have the power to transform the quality of our lives.
Werner Erhard
"It is not what Werner Erhard has accomplished but what others have done out of his work that tells the story…"
Raul Julia